Climate change is all around us and is becoming impossible to ignore. Warmer temperatures, rising sea levels and wildfires devastating the planet are no longer news. As a concerned advertising agency and One Percent for the Planet member, we followed our motto "show, don't tell" to recreate two limited-run national park posters envisioning the potential future of these beloved areas. The need to take climate change seriously is real.
One of our designers, Sam Fischer, pulled inspiration from vintage WPA National Park posters to imagine what they may look like for future generations. 
Everglades National Park Poster

As climate change continues to cause rising sea levels, Sam reimagined what future visitors will experience with this WPA-inspired Everglades National Park Poster.
Redwood National Park Poster
Forest fires are no stranger to California, but imagine a future where giant redwoods are nothing but charred stumps. Our designer, Sam, reimagined what future visitors might experience when driving through Redwood National Park with this WPA-inspired Redwood National Park Poster.
Get the Coast-to-Coast Set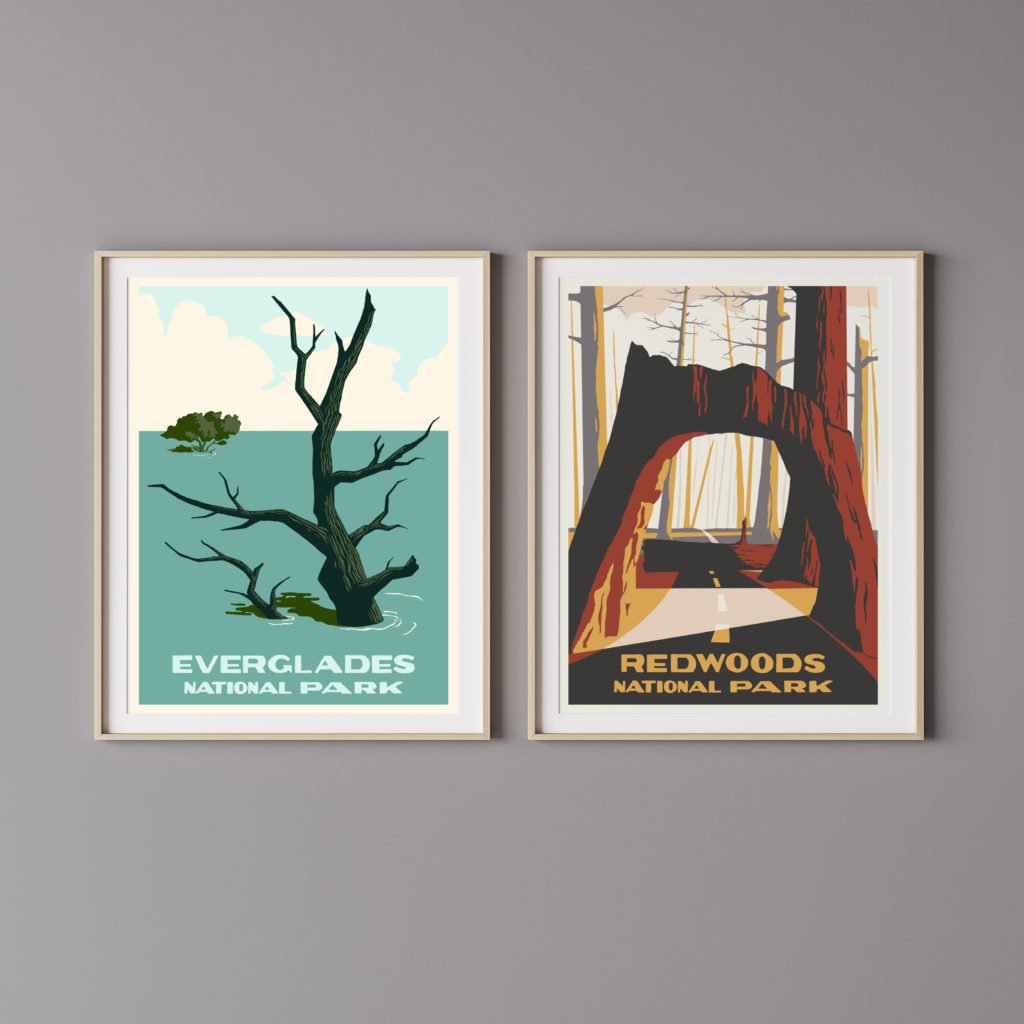 Prints are always better with sets. Get both prints and increase your donation's impact. Help our environmental partners preserve the future of these National Parks.
Notes from Sam
These posters initially started as an entirely different project. But as we started diving in, we realized we had a unique opportunity to visually bring to life our concerns about the climate crisis in a way that would be meaningful to most Americans. By using the design language of classic WPA National Park posters, we wanted the posters to feel familiar while flipping the message on its head.
Because the original posters were created with screen printing, I challenged myself to use only five colors (plus the color of the paper) to envision the possible tragic future of our national parks if we don't address climate change. While these posters look barren compared to the lush illustrations of traditional WPA posters, we still wanted to create a beautiful design people would be proud to hang in their homes.
By purchasing this limited-run National Park Poster you are giving back to our planet as proceeds will be matched by Duft Watterson and given to 1% For The Planet approved 501Cs.
Poster sign-up window 4/22/2021 – 5/31/2021
All donations final, printing to start after the donation window closes. Delivery estimated 6-8 weeks after purchase.

Interested in seeing the creation process?
Visit our Instagram to watch both posters come to life.