Idaho's summertime brings warm days at the lake, campgrounds and busy roads. With the rise in highway traffic, these travel months mark the "100 deadliest days" on roadways. For the past two years, DW joined arms with the Idaho Transportation Department to tackle behaviors that contribute to crashes.  
Nationally, fatal highway crashes increased in 2020. Idaho bucked the trend with an overall decrease statewide, though one Idaho route sadly saw a rise in crashes: Highway 20.
July 18, 2020, devastated St. Anthony, one small town along the highway; three teens dead and one critically injured after their car left the roadway. They joined the somber count of 25 killed and almost 1,000 injured in crashes on Highway 20 during the calendar year.
ITD formed a task force late summer to address the rising crash rate. While they carefully looked at roadway, signage and safety measures, ITD reached out to DW to strategize messaging and outreach on the highway. Their ask: how do we reach Highway 20 users with an engaging driving message?
Enter Stanley
Initially conceived for ITD's outreach at music festivals and fairs, Stanley is a gigantic, shaggy sasquatch. While his persona is light-hearted and clever, he also embodies the serious work of Shift Idaho. As an outreach program for ITD and the Idaho Office of Highway Safety, Shift Idaho focuses on engaged driving through positive messaging and community-based change. With the high stakes of lives lost due to inattentive driving, DW quickly strategized and executed a campaign for Highway 20.
Small towns like St. Anthony pepper eastern Idaho's busy route. Locals utilize the highway for transit to school or work. They meet up with regional travelers and national tour buses trekking up Interstate 15 from Salt Lake City to Yellowstone. To reach both groups, phase one of our campaign combined traditional out-of-home marketing with innovative placements.
In messages intended to keep eyes on the road, long-term vinyl billboards encouraged engaged driving with bold colors, humor, short, easy-to-read copy and Stanley's handsome mug 15′ tall.
Longer messages from our favorite bigfoot caught up with locals and travelers safely parked at gas stations. DW's creative for gas pump toppers, gas station tv videos and ice chest stickers offered out-of-the-box placements to encourage focus on the road. The campaign captured attention, both with highway users and award committees. Props to our media partner Riester for awesome placements.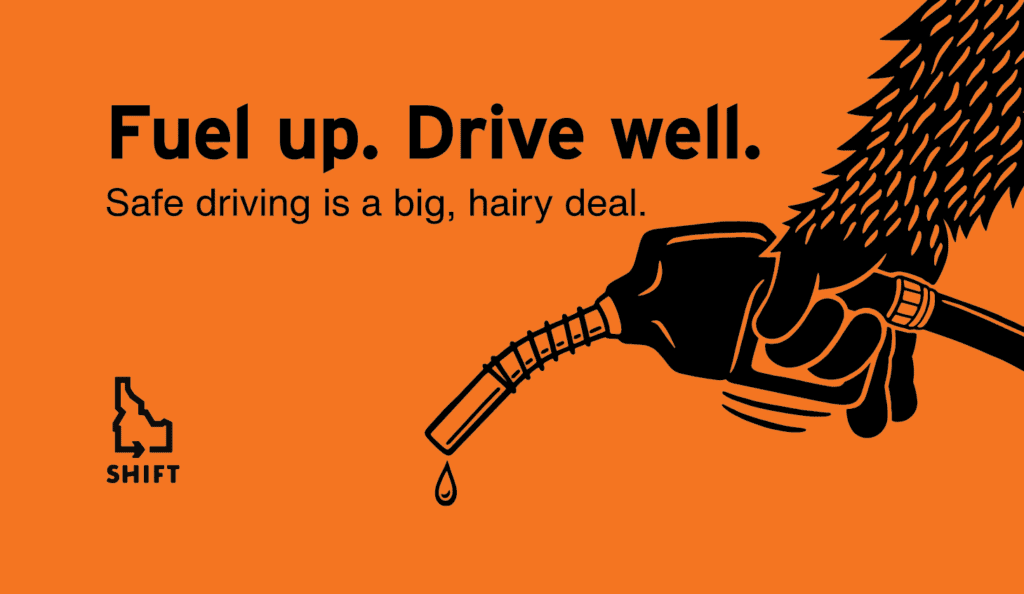 Next up?
Phase two of the campaign will extend guerilla tactics to highway restaurants, rest stops, campgrounds and state parks. Stanley may even show up at your favorite Idaho sporting event or fair. Updated out-of-home placements, geo-targeting and digital campaigns will round out our efforts.
We can't wait to share Summer 2021 creative work soon. We're confident this campaign will raise awareness and affect real change for safer roads in our communities. Learn more about the critical work of Shift Idaho at shift-idaho.org.
Rockies Awards for the Highway 20 Campaign
Gold: Ice Chest Stickers
Silver: Complete Campaign
Silver: Sasquatch OOH Billboard
Silver: Gas Pump Toppers
Silver: Sasquatch Illustrations
Reach out if you're ready for your own award-winning work from the DW team.