Every now and then, Charlie (a goofy, long-legged, un-coordinated, 9-month old German Wirehair) makes an appearance in the office. While he doesn't get points for being the most mellow dog in town, he does typically bring a smile to everyone's face with his shenanigans and happy-go-lucky swagger.
At DW, we encourage our employees to bring their pets to work from time to time. Our pet policy remains fairly relaxed, for well-behaved pets who can follow some simple office rules. We find the benefits far outweigh the drawbacks and our staff is full of dog (and cat) lovers.  Here are just a few of the reasons that our pet friendly office allows for occasional furry friends.    
Stress relief
Studies show that just petting a dog causes the release of hormones that ease stress and depression and lower the heart rate. Think of therapy dogs in children's hospitals, retirement homes, schools, etc. – the list goes on and on. Having dogs in the office provides a calming effect that is hard to replicate.  And, when work gets stressful a quick walk or a few minutes of playing with a dog, is a perfect mental break, which can actually increase productivity.
Communication and positivity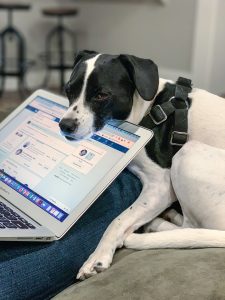 Dogs tend to get people talking. And not about work, which can often times be a good thing. They can bring people together for a conversation that otherwise might not interact and create stronger personal connections. Dogs also tend to be silly and bring laughter to the office. A little light-heartedness in the work day is always a good thing.
Key recruitment benefit
With pet friendly offices becoming more and more common, many potential employees have experienced how great it is to bring their dog to work with them. It becomes their norm, and they can't imagine not having their furry friend at work with them every day. When looking for new jobs – a pet policy might rank high on the list of benefits. It might also be a benefit that is hard for someone to walk away from.
The world outside
There is something special about bringing a part of your "outside of work" life into the office to share with co-workers. It's important to remember that there is a big world outside our keyboards and that life doesn't revolve around deadlines and financial reports. Pet friendly offices help bring the best of the outside, in.