COVID-19 has caused a gigantic shift in the business world. From new work-from-home policies to limiting corporate travel, much has changed about the way we do business. Fortunately, we live in a day and age where many employees can successfully work remotely.
But many companies are doing more than just altering their policies. Many are giving away their products to help those on the front lines and using their branding and social media to fight COVID. 
Rewarding health workers with freebies
Many businesses are stepping up by providing free food, products and services to healthcare workers. One of these companies, Starbucks, offered medical professionals a tall brewed coffee every day through May 3.
Shoemaker Crocs has joined the fight by giving a free pair of their classic clogs to healthcare workers. On their site, Crocs encourages everyone to be comfortable in their own shoes. They say that statement is true now more than ever, especially for those in healthcare fields battling COVID-19.
Additionally, premium content from the guided meditation app Headspace is now free for any healthcare provider in the U.S. through the end of the year. This gives them access to a library full of meditations, sleep sounds and bedtime exercises all designed to help them relax and de-stress.
At the same time, donut giant Krispy Kreme has agreed to give anyone in the medical community a dozen donuts each Monday through May 11. And that's just a shortlist of all the companies providing free products and services to healthcare workers.
Re-thinking business operations
One Duft Watterson client, AccuQuilt from Omaha, is also providing products to help fight COVID, but in a different way than Starbucks or Crocs. Well known to quilters as a company that offers a line of fabric cutters, dies and patterns that speed up the cutting of the shapes needed to create a quilt and other fabric projects, they knew they could help on the front lines.
Today AccuQuilt is donating products and helping to bring the quilting community together to mass-make masks for individual use and front line workers. Like other small-to-medium-sized businesses, AccuQuilt saw a decrease in sales with the onset of COVID-19, but by re-tooling their business, they not only created a new product to meet the needs of their community, but also found a new path to doing business and keeping their staff working. Following the CDC recommendation that all Americans should wear cloth face masks in public — and with hospitals and healthcare workers dealing with a shortage of protective gear and masks — AccuQuilt immediately jumped into action. 
In the face of COVID, AccuQuilt is helping the quilting community repeat its heroic tradition of banding together to make a difference. From abolitionist quilters raising funds for troops during the Civil War to NAMES Project AIDS Memorial Quilt in 1985, the quilting community has a long history of stepping up to help causes. 
Becoming a trusted source on social media
Not many people would think a frozen meat brand would become a guiding voice during a pandemic. But these are not normal times. Lately, the internet can't get enough of Pennsylvania-based Steak-umm, the brand with a standout voice in a world turned upside down. 
Not long ago, Steak-umm published a nine-part thought-provoking post about the importance of being media literate and using reliable news sources. At the end of the post, Steak-umm encouraged readers to donate to Feeding America's COVID-19 fund. In all, the tweets gained 5.1 million organic impressions and 443,000 engagements, including more than 57,000 likes and 15,000 retweets.
Steak-umm's social media success didn't happen overnight, however. Before this nine-part opus, they generally got about 500,000 impressions per tweet. The brand had steadily been gaining followers since they changed the tone of their social media account years ago. Readers loved their authenticity — Steak-umm wasn't shy about commenting on controversial topics and put more emphasis on starting a cultural conversation than blatantly promoting products.
Using a tagline to recognize heroes
When Duft Watterson helped Geisinger in Pennsylvania create their "Long Live Everyone" campaign recently, both parties envisioned it unifying patients, communities and people in the healthcare industry. With the emergence of COVID-19, that campaign theme has never been more important — now it's an anthem, a rallying cry, helping to remind the state to support caregivers on the front lines.
Currently, Geisinger is using "Long Live Heroes" as a tagline and #LongeLiveHeroes as a hashtag to honor physicians and team members who are fighting the virus on the front lines.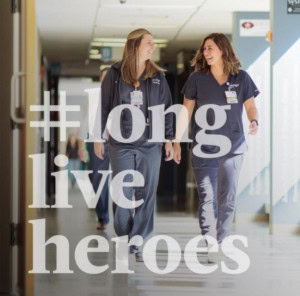 Helping others is good for business
These are unprecedented times we are living in. There are no maps or guidelines telling us how to do business. But in these uncertain times, one thing is for sure: Helping health professionals on the front lines who are helping all of us is anything but bad for business.