If you're anything like me, you're reading this with – at best – three weeks until your December holiday of choice. Doing gift shopping over Black Friday weekend? Overrated. Thankfully, you think, Amazon is in your corner. After all, those Slang flashcards would be a hit. What's more entertaining than hearing your mother-in-law describe the green bean casserole as "lit"?
But what if your mother-in-law is an already-hip designer? Well, as luck would have it, our design team has hand-curated a collection of gift ideas to make your holiday shopping easier. We've included sub $10 desk knick-knacks for the budget conscious to big-ticket design tools guaranteed to steal the spotlight on Christmas morning.
Gifts under $25
Creative Strategy and the Business of Design by Douglas Davis – $17
Creative strategy is the foundation of a fruitful design career. A must read for freelancers, art directors and agency owners.
Start with Why: How Great Leaders Inspire Everyone to Take Action – Paperback: $12.15, Hardcover $18.36
The book starts with a comparison of the two main ways to influence human behavior: manipulation and inspiration. Sinek argues that inspiration is the more powerful and sustainable of the two. A highly awarded and recommended read.
Field Notes Notebooks – $9.95 to $164.95
These beautifully designed notebooks are a must for any designer to scribble down their latest and greatest idea. Field Notes has a variety of options to choose from, but have a wide variety of notebook 3-packs available for around $12.95.
Micron Pens – $10.85
A staple in any designer's toolkit. Feeling generous? Pair with Field Notes for the complete designer-approved note-taking package.
Hand Pencil Holder – $18.95
Nothing says happy holidays like a sleek pencil-holding hand with cup thing.
Photoshop Enamel Pin – $18
We really want this.
Illustrator Enamel Pin – $18
And similarly, the Adobe Illustrator equivalent. 
Cable Management Stickies – $8.99
Can't go wrong in helping that special designer in your life stay organized with these simple but crazy helpful mechanisms.
Garphic Design Hat – $26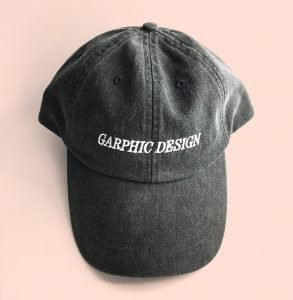 That's not a typo.
Known for their custom business card printing and high-quality materials, a gift card to Moo would be an awesome gift for any designer. Gift cards range from $10 to $100, but we'd recommend at least $50.
Gifts under $100
Bose SoundLink Micro Bluetooth Speaker – $79
Everyone could use one of these things. Designers included. 
Smart Lights – $39.99
Turn lights on and off right from the phone. Being lazy has never been more rewarding.
Amazon Echo – $69.99
"Alexa, play The Futur Podcast!"
Wacom Intuos Drawing Tablet – $69.95
Essential tool for digital artists. Worth noting that I personally have like 3 or 4 of these things split between the office and house. I might even have one in my trunk? That said, maybe double check with your shopee before buying one. 
Patagonia Lightweight Black Duffel – $78.95
It's just a nice thing to have. 
Gifts under $1000
Pantone Swatches – $159.61
Another essential. 
Philips Sunrise Alarm Clock – $199.99
For those of us who aren't exactly morning people, this alarm clock can come in handy. With different modes to simulate sunrise and sunset, it can help improve sleep as well as give you a nudge to get your morning going.
IKEA Walnut Countertop ($159.99) + Electric Stand-Up Desk ($284.99)
Your designer will be blown away by this DIY-hack. With the combination of the standing desk and IKEA's modern walnut countertop, you can attach the two for an ergonomic and classic looking desk they'll be excited to work at.
iPad Pro – Starting at $799
If you're looking to go above and beyond, consider snagging an iPad Pro. It's quickly becoming the gold standard for illustration, even beating out the ever-so-lovedWacom lineup.
Bonus: Apple Pencil – $129
Your designer will be all set with their new iPad with this must-add tool.
Happy shopping!
Note: If you don't happen to have any designers on your shopping list, feel free to add one of ours to it 🙂